Ghostbusters World is a popular mobile game that is based on the iconic Ghostbusters universe. It allows players to catch ghosts from all dimensions, perform raids, build teams, and do so much more. If you have also started playing the Ghostbusters mobile game, then you could be overwhelmed by its features. Don't worry – I'm here to teach you how to play Ghostbusters World like a boss with some expert tips and tricks. Let's begin and catch all those ghosts around you!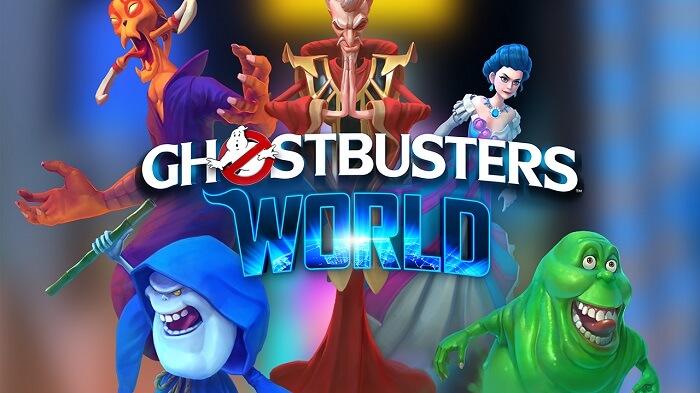 Part 1: What's exciting in Ghostbusters World than Pokemon Go?
While Pokemon Go became one of the first games to explore augmented reality in a new way, Ghostbusters World took it to another level. Here are some of the major reasons why Ghostbusters World is gaining more traction than Pokemon Go these days:
Pokemon Go does not have a proper storyline or theme, but Ghostbusters World has explored different storylines in the game.
Players often reach a stagnant point while playing Pokemon Go due to the absence of multi-players. In Ghostbusters World, we can play with other players, join teams, and do various activities together.
The feature of doing raids in Ghostbusters World is also a new and refreshing feature in the game.
There are fewer restrictions in Ghostbusters World compared to Pokemon Go. For instance, you can play Ghostbusters World on iOS/Android in a moving car. There are also fewer instances of getting an account blocked for using a location spoofer.
Several other exciting features include location-based dimension doors, new suits, weapons, multiple stories, PvP mode, and so much more.
Part 2: Get Familiar with the Basic Rules of Ghostbusters World
If you just started with the Ghostbusters mobile game, then you might have certain doubts. Let's learn how to play Ghostbusters World by covering its major concepts.
2.1 What are various ghosts in the game?
As stated, it is an augmented reality and location-based game that revolves around the well-established Ghostbusters universe. In this, players need to walk around to catch ghosts nearby. There are different dimension doors scattered all over that you can cross to explore ghosts. Players can use weapons and the available equipment to fight against ghosts and even capture them. On the other hand, ghosts can use their own powers to fight you or be resistant to your attacks.
2.2 How to level up?
Players can collect different points for various activities in the game. For instance, you would earn points every time you fight a ghost, capture a ghost, do raids, join teams, upgrade weapons, complete a mission, etc. Once you reach a certain scale, you would be upgraded to a new level.
Just like players, you can also level-up your ghosts as well by participating them in more battles. Though, there is provision for PKE crystals that you can also use to manually increase the level of your ghosts.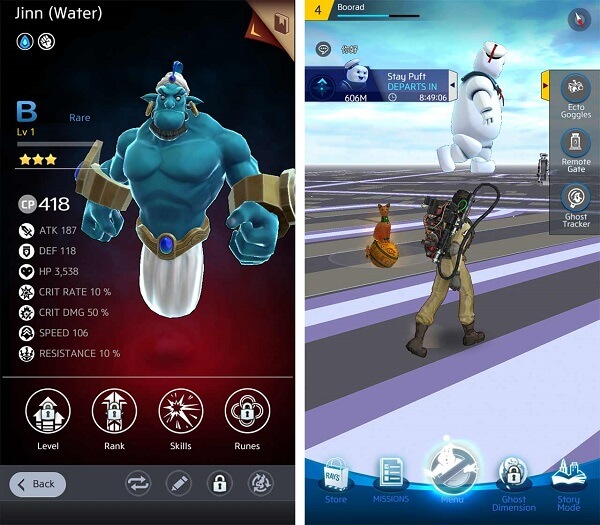 2.3 How to battle?
The ghost arena is one of the most exciting features of the Ghostbusters World that lets us battle with other players. You can discover an arena in the nearby area and would get a chance to fight 5 times in it. Also, you would have to spend 100 coins searching for another player in the arena to fight. Once you have an opponent ready, you can see their Combat Points and the ghosts they own. After that, you can use the features available on the screen to battle with the opponent by selecting the appropriate ghosts for the combat.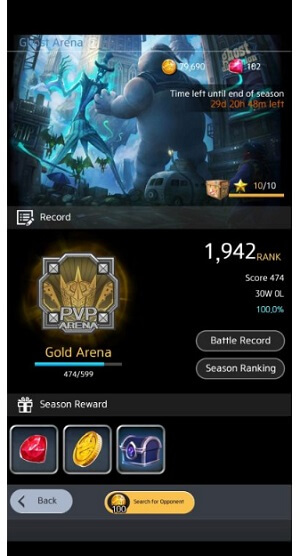 2.4 How to catch ghosts?
Most of the players in the Ghostbusters mobile game spend their time catching ghosts. To do this, you need to explore the surrounding areas and enter various dimension doors. Since the game is based on augmented reality, you can stumble upon a ghost in the real-world. To catch a ghost, you can use various tools and equipment that are available for you. This can destabilize the ghost or decrease their efficiency to counter-attack you. One of the best ways to catch a ghost is by using the Particle Thrower that you can reload and throw at the ghost to capture it.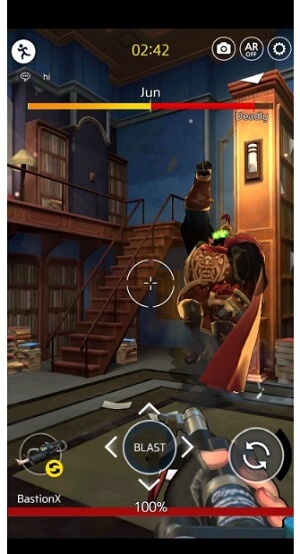 2.5 How to spawn ghosts?
Apart from chasing ghosts in the game and entering dimension doors, you can also spawn ghosts in the Ghostbusters World iOS/Android game as well. There are three major ways to make ghosts appear nearby:
Once you find a dimension door, don't enter it, but just stand nearby. As you would stay nearby the door's range, you can view different ghosts on the radar.
You can just leave the game open and take a walk. This is because ghosts can be found in the real-world besides dimension ghosts as well.
The best way to detect more ghosts nearby is by using a pair of ecto-goggles. Once you put on the goggles, you can spawn 16 different dark and light ghosts even if there is no dimension door nearby.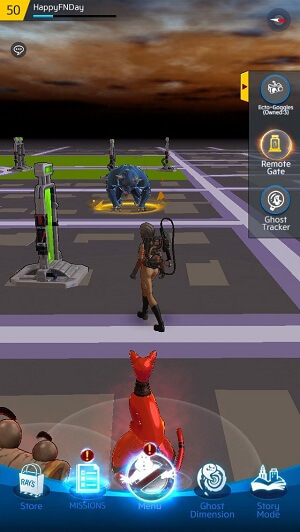 Part 3: 3 Tricks to Level up Fast in Ghostbusters World
Improving your current level and combat points can be the toughest job in Ghostbusters World. Now when you know how to play Ghostbusters World, let's get to know about some expert tips and tricks that you can implement as well.
3.1 Get a GPS simulator to Play Ghostbusters World without Moving
A lot of people don't know this, but you can play Ghostbusters World using a simulator and fake your location or even the movement of your device. If you use an iPhone, then you can take the assistance of a reliable tool like dr.fone – Virtual Location (iOS) to do it. With it, you can just spoof your location to anywhere you want in the world. Also, there is a provision to simulate your movement between the selected spots at the speed of your choice. The application is a part of the dr.fone toolkit, is extremely easy to use, and does not need any jailbreak access as well.
To learn how to play Ghostbusters World without moving using dr.fone – Virtual Location (iOS), you can follow these steps:
Step 1: Connect your iPhone and launch the tool
To start things, simply install the application on your system and launch the dr.fone toolkit on it. From its welcome screen, you can launch the Virtual Location tool.
Furthermore, use a working lightning cable and connect your iPhone to the system (and trust it). Once you get the following prompt, click on the "Get Started" button.
Step 2: Spoof your present location
Now, after your device is detected, you can spoof your location by clicking on the "Teleport Mode" icon (third option on the top right). Go to the search bar and just enter the name of the location that you wish to spoof.
This will change the map-like interface on the screen and you can zoom in/out or move the pin to get the exact location. In the end, just drop the pin to the desired place and click on the "Move Here" button.
That's it! This will change your device's location and you can launch Ghostbusters World on iOS or any other location-based app to check the new location.
Step 3: Simulate your movement between two spots
To simulate your movement between two spots, click on the "One-stop mode" icon (the first icon on the top right) and adjust the location on the map. Drop the location of the final spot using the pin and click on the "Move Here" button.
After that, you can specify the speed at which you wish to move from the scroll option at the bottom of the screen. You can also enter the number of times you wish to simulate the movement and click on the "March" button to start it.
Step 4: Simulate movement between different spots
Just like that, you can also simulate movement between different spots by clicking on the second option on the top for the Multi-stop Mode. On the map, drop the pin to different spots in the same route and click on the "Move Here" button after dropping the final pin.
Lastly, select the walking, cycling, or driving speed for the simulation and enter the number of times you wish to make the movement. After entering everything, click on the "March" button and start the simulated movement.
3.2 Upgrade your Weapons
There are times when users encounter stubborn ghosts and several other tough situations in the game. In these scenarios, it is recommended to upgrade your weapons to level-up your gameplay. For this, just tap on Menu > Character and Equipment > Equipment and tap on the weapon you wish to upgrade. To upgrade the weapon, you need to research and for that you would need to spend coins.
For every parameter of the weapon, you can do research five times and upgrade it. For instance, if you have selected Particle Thrower, then you can select the "Increase Damage" parameter and upgrade it 5 times at max. In this way, you can make your Ghostbusters World weapons powerful and more effective.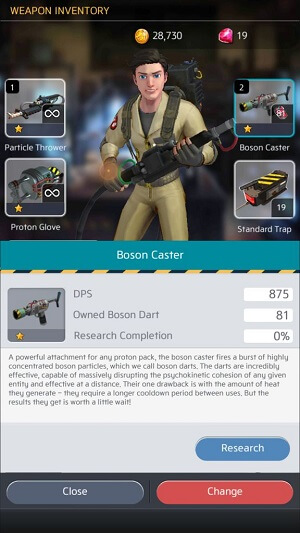 3.3 Try to Capture More Entities
Needless to say, one of the best ways to improve your profile is by capturing more ghosts. To do that, you can take the assistance of traps that can be of three types – standard, advanced, and master. The Advanced traps would be unlocked at level 10 while you can access the Master traps at level 20.
If you encounter a stubborn ghost that can break a standard trap, then you can use an advanced or master trap instead (after reaching level 10/20). Though, you would have to spend your hard-earned coins to buy these traps ahead.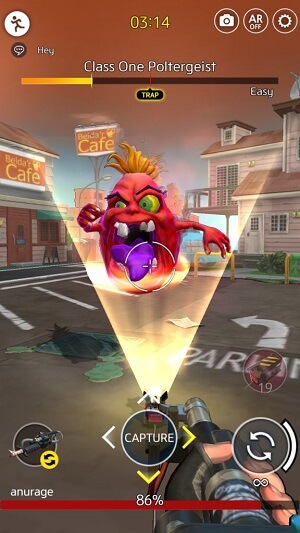 There you go! After reading this extensive guide, you would be able to learn how to play Ghostbusters World without moving. Besides that, I have also listed some smart tips and tricks that you can implement in Ghostbusters World to be a pro in no time. Though, the best way to level-up in the Ghostbusters mobile game is by using a simulator tool like dr.fone – Virtual Location (iOS). Using it, you can teleport to new locations and even simulate your movement to catch more ghosts and earn tons of points without any effort.